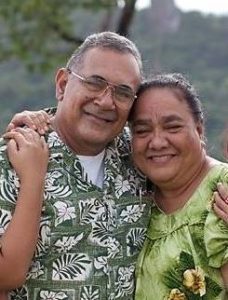 Lihner Joel
July 3, 1952- September 10, 2022
Lihner Welles was born on July 3, 1952, in Micronesia. She trusted Christ as her Savior in June of 1969.  In 1970 she attended a crusade that Dr. Bill Wingard held in Pohnpei, and at that time dedicated her life for God to use any way He chose.  It was during this same crusade that her brother, Isamo Welles, began the Calvary Baptist Church of Kolonia.  Lihner was one of the first members.
She received a nursing degree from the College of Micronesia in 1978, and married William E. Joel on July 8, 1978.  Together they had three children:  Augustine Joel, Teresa Joy Aron, and Sherrie Ann James.  Eventually, her husband became the pastor of Calvary Baptist Church.
Mrs. Joel was a faithful pastor's wife and church administrator of Calvary Baptist Church, and was instrumental in the early years of Calvary Baptist Academy, serving as a teacher and librarian. She also served in the Pohnpei Public Health system as a nurse.
Mrs. Joel went home to be with the Lord on September 10th, 2022, after several years of prolonged illness.  Funeral services were held on Wednesday, September 13th, 2022, at Calvary Baptist Church in Pohnpei.