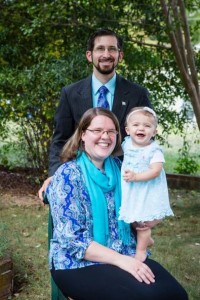 Tim and Kristin Stalcup are some of our newest missionaries. They are just beginning deputation on their journey to working with Muslim outreach in New York City. The Stalcups recently completed World Wide's new Missionary Orientation School online courses. We asked if he would write a review of his experience for our missions family.
Why should a missionary be enthusiastically excited about these courses?
First of all, the Missionary Orientation School (MOS) courses give those new to World Wide a sense of belonging. In the "Principles and Practices" course it was refreshing to hear that we were on the same page with World Wide. In this course and in the "Character" course, it was encouraging to hear that we were not being coerced into a mold but were given an opportunity to team up with like-minded people. This sense of belonging is expressed also in the final course "Family Fellowship Week." Of course, we all belong to our own churches and to our own ministries, but it is encouraging to be warmly welcomed into an organization of like-minded missionaries.
Secondly, the MOS courses explain to new missionaries many details of the practical steps of how to arrange meetings, talk to pastors, present the ministry, begin writing prayer letters, and organize finances. No missionary can remember every practical detail from a Bible college missions deputation class. Several of these courses answer many questions and stir the mind to consider new questions to ask (which the office is glad to answer). Although "Ministry Organization" is the eighth course, it is a practical help for preparation for deputation.
Thirdly, the MOS courses inform (or remind) all of the missionaries about the various services offered by World Wide. The leadership of the agency so graciously invites the missionaries to avail themselves of numerous services. The organization, record-keeping, and other forms of assistance by the agency's office personnel is tremendous.
Fourthly, the MOS courses offer to all missionaries a helpful reminder about Christian character, deportment, and maturity. The courses "Principles and Practices," "Character," and "What I Wish I Knew" are chock-full of nuggets of practical wisdom and Biblical principle that could keep many missionaries from wrecking their lives, their homes, and their ministries. For this reason, I highly recommend that missionaries already on the field avail themselves of these easily-accessible reminders.
How complicated are these courses?
For one thing, the classes are all available online! This means missionaries can complete these courses on their time schedule wherever they have internet. In other words, they can watch them on a smartphone, on a laptop, or at an internet cafe. One could take the courses in a barn in Kansas or in a McDonalds in India. They can be done at any time—even 2:00 am. Even if the missionary does not have internet access, World Wide may even arrange a time when he may come to the office to use the office internet. The course material of the videos is strictly conversational dialogue. Therefore, the audio could be appreciated while a person is driving down the road.
Secondly, the courses are all organized in a classy, easy-to-navigate webpage. By logging into his personal account, a missionary can easily keep track of which courses (and even which units of each course) he has completed. The missionary's comments and his answers to the course questions are automatically forwarded to Bro. O'Malley, who will email a response.
For all of these reasons, the MOS courses should be appreciated by every World Wide missionary. Missionaries should consider them to be an invaluable resource rather than a tedious responsibility. These could be watched together as a couple. Portions of some of them would even serve as tremendous family devotions.
Log in! Watch them! Enjoy them!
Tim Stalcup
2 Cor 5:15