Dates to Know
December 1 – October Financial Reports will be due.
December 9 – All prayer letters should be submitted to our staff in order for your recipients to get them before Christmas.
December 18 – Please contact us by this date via Signal if you will need funds in your account before Christmas or the end of the year.
December 23-27 – The Office will be closed in celebration of Christmas.
January 1 – November Financial Reports will be due.
January 9 – Missionaries will receive their statements of December Support Received.
January 13 – All missionaries will receive their final December support on this day, regardless of the day they normally receive support.
January 15 – December Financial Reports will be due, along with any remaining receipts or financial paperwork for 2019.
January 31 – 1099 Forms and other tax documentation for the 2019 year will be available.
June 15-18 – Family Fellowship Week in Kinston, NC
December Support
Please contact us via Signal by December 18 if you would like funds in your account before Christmas. Final December support distributions will be made on January 13th for all missionaries, regardless of their regular pay date. Contacting us by December 18 will enable us to schedule your funds around bank closings and holiday hours. Should you have an emergency need after December 20, you may contact our staff at the following numbers:
Kim O'Malley: 704-974-1008
Naomi Torberson: 704-692-7237
January Income Totals
During a typical month, we close the books on the 25th, and any checks received after that date are posted to the following month. Due to receipting requirements, we cannot do this in the month of December. As a result, please be aware that your December support total may be higher than normal, while your January support total may be lower than normal. Please be sure to plan ahead for this!
Family Reunion Time
"A family reunion is an occasion when many members of an extended family congregate. Sometimes reunions are held regularly, for example on the same date of every year. A typical family reunion will assemble for a meal, some recreation and discussion. It is also not uncommon for regular family reunions to be sponsored by family organizations." – Wikipedia
Family Fellowship Week matches the above definition of a reunion! We hope you are making plans to join us for this annual event, which begins on the third Monday of June each year. Come experience the joy of uniting with fellow missionaries from around the world. Taste the delicious cooking provided by the New Testament Baptist Church family. Relax in an atmosphere surrounded by those who *get* what it means to face ministry away from family and friends. Soak up the times of fellowship. Share prayer requests and testimonies of God's goodness. Learn from the older generations. Encourage the younger generations. Celebrate with us the beginning of our 50th year of ministry. Don't miss this exciting week, to be held June 15-18 in Kinston, NC!
New Baby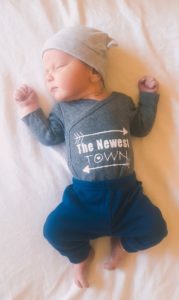 Jeremiah Joseph Town was born on November 14. He weighed 10 pounds 4 ounces and was 22 inches long. Jeremiah is the fifth child of Josh and Joanna Town who work with Arabic-speaking people in Philadelphia, PA. The Towns' older children are Juliana (8), Jayla (6), Jennifer (3), and Joshua (1). Pray for them as they are working to start a new church.
Missionary Housing Available
Missionary housing is available for rent in the Shelby, NC, area from April 15, 2020 – January 15, 2021. The four-bedroom, two-and-a-half-bath home is $625 per month, plus electric utilities. Contact Don Clarke at [email protected] for more details.
Check out our missions resource blog at Missions.Today for more great information. Feel free to submit posts that may help other missionaries.
Uplift Podcast
The following recordings were recently published on uplift.wwntbm.com. You may access the site by entering the username: wwntbm and the password: gospel. These recordings for our missions family contain the Uplift calls in their entirety, including prayer requests and challenges to our missionaries. We hope they will encourage your heart.
Success by Ken Sparks
Counted but Loss by Michael Riffel
Exceeding Abundantly Above by Jeremy Lockhart
Pure Religion by Gene Krachenfels
Enter Into the Rock by Stephen Knickerbocker
Fruit That May Abound by David Landers
Dealing with Discouragement by Matt Brown