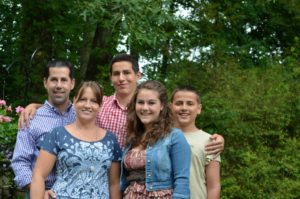 Bro. Keith Klaus (missionary to Germany) shared this devotional on Uplift, our weekly podcast. We trust it will be a blessing to our entire missions family. It is taken from a series of messages he has recently preached in his church on "Questions God Asks of Man."
God always asks questions not for information, but to get mankind to respond to Him. (Genesis 16:1-6)
The story begins with a promise from God to Abraham. Initially, Abraham simply took God at His Word and believed that He could and would do something special. However, as time went on and they had no son, Abraham and Sarah did what most of us do. We think on God's promises and identify the "problems" with His plans. There is no indication that Sarah believed God as Abraham had. So as she thought of the "problems," she also presented her own solution. From a human perspective, her solution worked – at least initially. God often does allow our solutions to work, even if they go against His plan. But, those solutions often have consequences that we are not prepared to deal with.
As trouble grew between Hagar and Sarah, Sarah chose to blame Abraham. Abraham put the responsibility back on her to find another solution to the current crisis, and Sarah chose to respond with harshness. The result was that Hagar fled from home.
Enter God. He finds Hagar in the desert and asks her two critical questions. "Where are you coming from?" and "Where are you going?"
The first question God ever asked Adam was, "Where are you?" But here, He already knows where to find Hagar. He knew she was in a place of turmoil. God asked Jacob, "What is your name?" but here He called Hagar by name because He wanted to have a personal conversation with her.
There are two other instances in Scripture where God asks, "Where did you come from?" Both times He was addressing Satan in Job 1:7 and 2:2. A similar question is recorded when Christ met Nathanael, and Nathanael asked Christ, "Where did you find me?" Of course, Christ knew where Nathanael had come from–Christ had seen him before Philip had called him.
These two questions are applicable to those on deputation or in missions! We focus often on where we came from, whether we list our home country, or our home state, or the last meeting we were in before we arrived at the current location.
The second question, "Where are you going?" is equally important, but notice that Hagar did not answer the second question. She focused on the first. There was much she could have said. She focused on the pain. She was engaged with the current problems she faced and was overwhelmed with the burden. Perhaps she intended to return to Egypt. If that was the case, there is good chance she did not even know how to get there. There was a slim chance she, as a pregnant woman alone in the desert, would survive the trip.
We too must identify where we are coming from. Think of where God has brought you. Understand the history of how He has led you to this point. But then, as with Paul, you must look forward. Put the past in the past and press forward.
Hagar did not answer the second question. All she knew was that she decided to leave her troubles behind. Every decision brings results. Her decision put her in a desert alone, perhaps unaware of where she actually was at the moment. Abraham and Sarah's decisions had affected her plans. Our decisions will affect others as well.
We may find ourselves, like Job, in a situation where we don't know what is happening. Yet God always knows! (Job 23:10) Job was comforted when he realized that he didn't need to know the answers, so long as he knew that God knew! God takes an interest in you as well!
Notice the angel's response to Hagar: "Return. Submit." Probably nothing He could have said would have been more discouraging. He told her to go back to a place of difficulty and humble herself before her harsh authority.
God does call us to go. Those of us in missions focus on always going and moving towards future ministry. But now came a call to go back, and stay in a hard place. Plant your feet. Obey. Let God use the time to sand off the rough edges and work His plan. Yet, that call did not come without a promise!
The Lord had heard Hagar. He promised to bless her! Even though the long term, still ongoing consequences of Abraham and Sarah's decisions has resulted in much turmoil throughout the world, we must not lose hold of the fact that Ishmael's birth was a blessing from God to Hagar and a fulfillment of God's promise to her.
We can rest in knowing that when God calls us to stay in a difficult place He promises to be with us, and He will keep His promise and use those difficulties to perfect His will in our lives.
If this devotional has been a blessing to you, please contact Bro. Klaus and let him know!